Je trouve que les vêtements de certaines marques, comme Comptoir des Cotonniers ou The Kooples, sont assez chers pour ce que c'est. Personnellement, je préfère mettre le prix fort dans des vêtements "originaux" que l'on ne trouvera pas ailleurs. Je déteste par dessus tout acheter quelque chose et le retrouver quelques mois plus tard chez Zara, H&M.. En voici un exemple :
Blouse & jean enduit The Kooples, respectivement 150€? et 120€
Crédit photo : Estelle du blog
In Style We Trust
(petit mot à Estelle : J'espère que tu ne vas pas regretter tes achats et/ou me détester après avoir lu mon post!)
Allez voir son blog les filles, il vaut vraiment le coup d'oeil
♡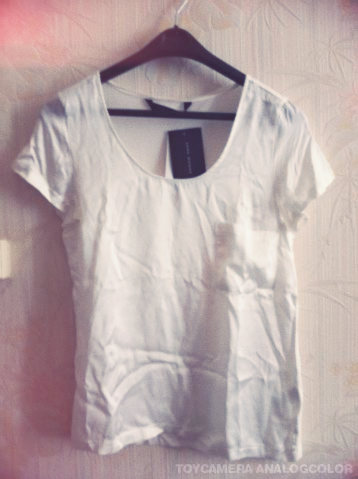 T-shirt en soie & coton Zara, 39,95€ (pas eu le temps de le repasser, désolée!)
Je ne l'ai pas trouvé sur l'e-shop mais il ne devrait y être bientôt je pense!
J'avoue, j'ai un peu triché, j'ai trouvé un t-shirt au lieu d'une blouse.. :p Lundi, j'avais pris ma tenue en photos dans une cabine d'essayage, vous vous en souvenez? C'était en fait dans une cabine Zara, juste avant que j'essaie ce jean! Et comme je suis faiiible je l'ai acheté..
(en plus il a des zips.. LE détail rock qui me fait toujours craquer..)
xx
(validez votre panier d'abord puis insérez le code dans la case "Code NUS". Ne vous inquiétez pas je vous prends pas pour des débiles, c'est juste que moi j'avais mis le code dans la partie "Promotional code" et que je comprenais pas pourquoi ça marchait pas haha)